===

FOR THIS WEEK:
Tuesday, 26 February – Enfolding systems & complexity sciences
• LOGBOOK 1 DUE
• Complexity handouts (handed out, emailed, and PDF1, PDF2.)
• make sure you are caught up on everything we have read so far
Thursday, 28 February – Complexities – GO TO CONFERENCE TODAY & TOMORROW!
• There is no class time today, in order to free up a bit of time for conference attendance which is required! You should be at the Complexity Conference as much as possible: whenever you are not working for wages or in another class!
• read ahead, think about femcriticon!


===
===
The Measurement That Would Reveal The Universe As A Computer Simulation:
http://www.technologyreview.com/view/429561/the-measurement-that-would-reveal-the-universe-as-a-computer-simulation/
Constraints on the Universe as a Numerical Simulation
http://arxiv.org/abs/1210.1847
Physicists May Have Evidence Universe Is A Computer Simulation
http://www.huffingtonpost.co.uk/2012/10/11/physicists-may-have-evide_n_1957777.html
===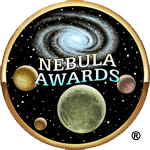 2012 Nebula Awards Nominees Announced [click pic for link]
Science Fiction and Fantasy Writers of America announces the nominees for the 2012 Nebula Awards (presented 2013), nominees for the Ray Bradbury Award for Outstanding Dramatic Presentation, and nominees for the Andre Norton Award for Young Adult Science Fiction and Fantasy.
===